♥ Welcome to Dolly Pink!



blog visitors
currently online

Please follow Dolly Pink's Twitter.


Thanks~!



♥ Dolly Pink's Links


Want to link D.P.?


Affiliates

Pinkly Ever After
Atomic Ami




♥ Archives


Recent Posts
♥ Anime North 2012 Wrap Up [PART 1 - Dolly Pink x Al...
♥ See You Guys at Anime North 2012~!
♥ Future Event -- TO LOLITA's Swap Meet
♥ Atomic Lollipop 2011 [Dolly Pink's Overall APop Ex...
♥ Another New Affiliate~! Atomic Ami
♥ New Affiliate~! Pinkly Ever After
♥ Anime North is NOW OVER~! [PART 2 - Dolly Pink's O...
♥ Anime North is NOW OVER~! [PART 1 - Dolly Pink x P...
♥ 13 More Days Until Anime North and The Launch!
♥ Pictures Speak More Than Words - Japanese Natural ...


Date back by month
♥ March 2011
♥ May 2011
♥ June 2011
♥ September 2011
♥ March 2012
♥ June 2012




♥ Followers


Want to follow us?




♥ Friday, 16 September 2011 @ 23:01
`Future Event -- TO LOLITA's Swap Meet
Hello dolls~!

After a busy and fun-filled summer holiday with Atomic Lollipop, I am planning to host an annual event for my local Lolita community -- TO LOLITA. It's a swap meet opened to 3 communities: TO LOLITA, SO LOLITA, and J-S3CT and items that fit in the Gyaru, Lolita, Cosplay, BJD and Visual-kei can be traded or sold.

This event will be happening on Saturday October 1, 2011!!! Oh my~ Only 2 weeks left.** Please visit and click on "DATES" for more information regarding the venue/meet-up.

Dolly Pink will be showcasing some prototype accessories at this meet up and selling more fur accessories so please don't miss out on this chance if you want to see a variety of items being sold/traded.

Thank you for reading.

Regards,
Aya - Dolly Pink

♥ @ 22:43
`Atomic Lollipop 2011 [Dolly Pink's Overall APop Experience]
Greetings~! My overdue post for Atomic Lollipop is finally here~

Atomic Lollipop, Toronto's first carnival convention dedicated to anime and music which took place on July 30-31 at the Sheraton Conference Centre [near Anime North's Doubletree Hotel]. Tickets costed $35-45 CAD depending on whether or not you had purchased the early bird special.

Let's start by saying that the attendence wasn't as big as Anime North's, however, in the next coming years I can possibly see an exponential growth similar to that of AN. Atomic Lollipop although small, had a little bit of everything for everyone to enjoy -- for example, there was rave concerts [for those who enjoy to dance], anime panels [for people to discuss about their favorite anime(s)], and fashion panels [for people interested in Harajuku fashion(s)]. This convention was meant to be a big "party" like event so all the hallways were decorated with big balloons and filled with upbeat music and ravers. With the big party happening all around the hallways, people wanting to buy anime merchandise were able to do so in the generously-sized dealer's room and arts/crafts in the artist alley located in the main entrance hallway. If you thought this wasn't enough, try running away from a huge tank with mad speakers in the hallways in lolita shoes!!!

During my 2 days there, I had little time to explore each activity happening at the con as I had to run around coordinating things. Even when I wasn't helping coordinating panels I would use whatever free time I have to sell at the Artist Alley so I apologize in advance if I don't have a variety of pictures of this event. Now fast forwarding --- Despite the fact that I was hardly at the artist alley table, Dolly Pink did really well in advertising and promoting the products as well as making a few new friends/connections --- Atomic Ami. I even donated a few prizes for the lolita panel which was popular as a lot of the people picked them out, so I know I will most likely donate a few things again in the future. After affiliating with Atomic Ami, I went to talk with Baby Pinku from Pinkly Ever After to catch up since the last time I saw her was at Anime North 2011.

Since I thought Dolly Pink did really well, I am going to try again for 2012 as I believe will have a strong attendence. So please see you there next year~~~!

Thanks for reading this long awaited entry~

Love,
Aya - Dolly Pink



Here are some Atomic Lollipop pictures I took of random cosplayers and friends!
[Please click on the pictures to see the full image]


Gen and I [Gen won Best Gothic Lolita in the Apop fashion show!!! >__<; soo proud of her!]
Joyce hoarding all of the epic balloons I collected throughout the convention! *super cute!!*
My lolita friends: Joyce and Cadney! **hearts~!
Photo Credit: Cadney & Lanii
Ciara cosplaying as Madoka! I hope that's the right character's name... xD
Joyce and I [ughh... I have huge bags under my eyes... forgive me...]
Photo Credit: Cadney



Kyu as Vampire Knight Kaname-sama
Photo Credit: Cadney
Lanii our special photographer! ^__^ *hugs*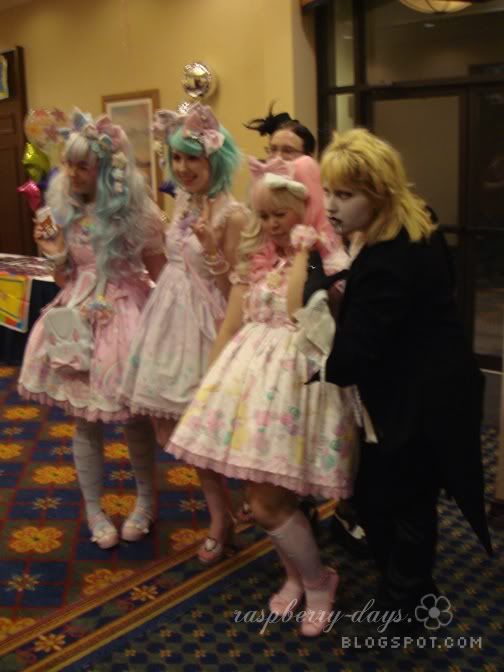 Cadney, Lanii, Ian, Me, & Meek
Wil taking care of our table! I know it looks naked a bit... but it will be better next year :D
Gen and Wil at
Dolly Pink
's and After Alice's affiliated table
Joyce wearing her Sugary Carnival one piece
Labels: Atomic Ami, Atomic Lollipop, Business, Crafting, Pinkly Ever After

♥ Monday, 5 September 2011 @ 00:27
`Another New Affiliate~! Atomic Ami
Hello everyone~!




It's been a long time since I updated this blog with new goodies but I wanted to announce

Dolly Pink

's newest affiliate addition --

Atomic Ami

! After going and visiting Anime North's Crafters' Corner every year, I couldn't help but admire this one particular table that had a bunch of cute amigurumi crafts. Why? I admire this brand because of all the hard work and improvement these 2 girls [Eli and Bel] put into their crafts. Not only did their designs improve [on a creative spectrum], but their business tactics as well! I absolutely love each and everyone of their crocheted pieces and I felt because the pieces and the creators themselves are soo cute that

Dolly Pink

should be affiliated with them. I also wanted to share my love of

Atomic Ami

's crocheted toys with everyone by introducing them here.




Atomic Ami

offers a variety of original amigurumi toys that range from cute fuzzy bears to bunnies and more~! Each craft is one-of-a-kind as the yarn they use varies from piece to piece or limited edition. Creating bears is a favorite to this local brand and their love to create cute pieces is guranteed to make your heart melt.




So if you're into cute & cuddly animals, please visit Eli and Bel's

Atomic Ami

and support them.







Thank you for reading.







Love,

Aya - Dolly Pink










----------------------------------------

Atomic Ami's Web Platforms:




*Please note that Atomic Ami does not have a button made yet so only text links are used*




Here are some examples of their work:

[Please click on the picture to see the full image]



Labels: Affiliate, Atomic Ami, Business